We always use search engines like Google or Bing, but did you know that YouTube is also a search engine? In fact, it is the second most popular search engine behind Google, and this platform loves to put higher on the web searches every good video on this multimedia platform.
If you get some popularity on this video platform, it could give you the money you need to live a wealthy life, but how does this work?
It is not that you upload just one video, and a paycheck of $1.000 will be in your bank account. It takes a little bit more effort. The requirements to start earning money on YouTube are:
Have at least 1,000 subscribers
Follow the
 GoogleAdsense policies
Create content that doesn't contain inappropriate language, violence, adult themes, promotion of tobacco or anything that could offend subscribers
Be at least 18 years old.
According to SmallBizTrends, Google can pay between 0.01 and 0.03 cents per ad view. In the best-case scenario, it pays 0.05.  YouTubers with one million subscribers can make $60.000 a year, and the top earner YouTube channel, Ryan Kaji, earned 29.5 million dollars last year.
But before even thinking about getting 20 million dollars a year, there are some SEO tactics you should learn so the holly algorithm can show your video more on every page, and CodeDesign will provide you with these useful tips for your YouTube channel. For YouTube ads, the right internet advertising agency(CodeDesign) could help.
Let´s get right to it!
Use YouTube SEO tools.
Search Engine Optimization is a manual job, it takes our knowledge, and human strength to make the best of it, or is it? In reality, artificial intelligence and online tools will always make our digital marketing duties easier, and, as SEO allows it, it can be without spending a dollar on these studies.
So, instead of typing your keywords on YouTube to see the hot trends on your niche, check out these tools that will help you study your keywords and help you understand your audience.
This is a browser extension that can show you complete stats of the keywords you need to track your YouTube Performance. With this extension, you can add your competitor´s channel to compare your own keywords, and it also allows you to set up email alerts to find trending topics on your niche. VidIQ also includes a Facebook Syndication feature that allows you to share videos across all social media platforms. The free version of this platform allows you to look at a vast amount of keywords, but this might hurt a little bit – the paid version is much better.
TubeBuddy is a browser extension that will help you manage your YouTube channel with many different mechanics. Some of the features it offers are video SEO, productivity, data and research, bulk processing tools, and promotion. This platform will allow you to create and schedule your videos, build end-screen templates and use saved responses for content moderation. If you are already an established YouTuber, and looking for the sale of merchandise, then an Amazon agency could help.
Google offers analytics tools that can help us find where our channel is doing great and where things are not going so well. With Google Trends, you can learn more about your audience and the content they like the most, which can improve your View rate, an aspect that is essential for letting your videos show in the first place of every YouTube search. This platform also lets you check out the watch time on your videos and how your subscribers are growing.
Use custom Thumbnails
No one should judge a book by its cover. However, on YouTube, it is a golden rule that your videos present an eye-catching Thumbnail to capture your followers' attention. And we are not just saying it, your reliable source for digital marketing and SEO. It is said by YouTube itself who assures that 90% of the videos with an eye-catching thumbnail generate more interaction within the platform.
This is known as clickbait, and you must catch the eye and the interest of your followers so that they want to click as soon as they see your video on the platform.
A good option is to design the thumbnail even before editing the entire video, adding the unknown or the key content information that you will provide to your followers in said video. Read more on Amazon FBA.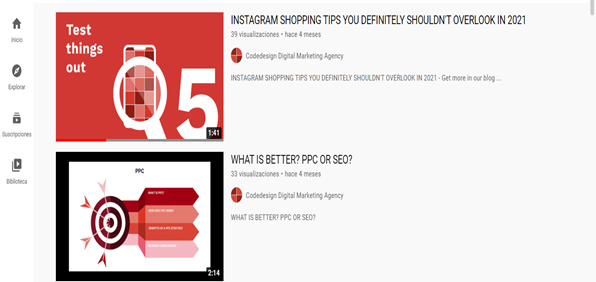 Source: Codedesign
Build Playlists
As marketers, we talk about different topics on our niche, not just about YouTube SEO. Because of this, as we do in our blogs, we group them into categories that our followers can find and find more information on that specific sub-topic about marketing. The same way we do with our blogs should be applied in YouTube´s playlists, where you put all the videos on a certain topic in one list. Besides helping your viewers find the video they need, keyword-rich playlists help improve your SEO and increase your search traffic. If you don't have playlists, your channel can look a little bit blank, and you are not giving your videos the maximum potential exposure.
For viewers, it is also useful to create playlists since, if you want to save a video you couldn't watch completely for lack of time, you can save them in a playlist to watch the entire video when you are completely free of tasks and duties.
Having a playlist of videos can also help you be on the top of YouTube´s search since the platform notices that your channel has a bunch of content for a specific topic.
Use tags wisely
Tags help the platform identify what your videos are about, but if you overload your tags with 200 different keywords, you would be misleading YouTube´s algorithm since it wouldn't know the main theme of your video.
Even in social media platforms like Instagram, it is old fashion and cringes on painting posts with hundreds of non-sense hashtags. Not always the one who has more hashtags is the one that has more engagement. Likes and viewers are clear proofs of that. Instead of writing every hashtag you could imagine, try to write the main topics of your video, and YouTube´s algorithm will have a clear image of where to show your video.
For this, we are going to illustrate with a technique that we learn from marketing youtube Brian Dean, the TSC formula.
1st Step:
Make your first 3 tags your keywords or variations of that word. In this case, it could be: YouTube SEO, YouTube SEO Tips and YouTube SEO techniques
2nd Step:
Choose three synonyms of your keywords: how to rank on YouTube, YouTube SEO 2021 and YouTube SEO optimization.
3rd Step:
Use three category tags, and these will describe your overall target topic, for example, Digital Marketing, Business and YouTube marketing,
Publish high retention videos
You can be right in all technical marketing stuff: SEO, keywords, marketing tactics, SEM. But, if your audience doesn't keep watching the whole video, your marketing plan is useless. So, if you want your videos to rank, people have to keep watching the entire video. This is called "audience retention" and is a huge factor for YouTube ranking and we, CodeDesign highly value it.
This is what YouTube says about this:
"Your goal is to keep audience retentions as close to 100% (because this means viewers are watching all of the way through your videos". And videos with consistently high audience retention and watch time have the potential to show up more frequently in search and suggested locations on YouTube"
Tips to increase high retention in YouTube Videos
Start your video with a summary of the topic you will talk about. Approximately 20% of your viewers will leave the video in the first 10 seconds, this is the reason why you should catch them in the first second with all the valuable info you offer.
Jump right to the useful content your viewers will see, don't make long introductions.
Leave the best part at the end, but, before going to that part, give a little preview of what that big finale will be. This could be answering the big question of this article "How to make your videos rank first on YouTube!".
If you are a digital seller looking for YouTube SEO to promote your Amazon marketing strategy or Amazon listing optimization, then here are the steps to find the right digital marketing agency.
Final Thoughts
SEO is not only useful for websites or blogs, it is a digital marketing tactic that should be used in all digital marketing channels. The techniques are similar to managing the Search Engine Optimization of your website, only adding important aspects of YouTube marketing such as creating content that answers the most sought-after questions by your audience. You might also like this article on Ecommerce SEO.
Make use of these valuable tips that we offer you in CodeDesign(as a leading digital marketing agency) and keep reading our articles for more information for your marketing plan!
See you soon!
About the author:
We are Codedesign – a multi cultural, technology, award-winning digital marketing agency. We can be define as a result-led, innovative digital marketing agency specializing in Digital Marketing, Ecommerce, Online Sales, Amazon Sales with a team of experts in Search Engine Optimization (SEO), Pay Per Click Strategy and Campaigns, Social Media, Content Marketing, Data Analytics, Ecommerce development, Software development, CRM integrations.