Video content is more alive than ever, while writing is going down and many customers tend to find it a little bit annoying. Most social media platforms are more video than written content, wether it is Facebook or Twitter, while other ones are mainly video or images, such as Instagram, YouTube and the most recent one, TikTok.
Video content is becoming the top choice for both companies and consumers, and with the continuous transformation of technology, it seems like the future will be pure audiovisual content.
Nowadays, more B2B companies have seen the true potential of video content in their campaigns, this is backed up by a WordStream survey that says that viewers retain 95% of a message when it is on video, compared to just 10% when it is read. Attention is gold for marketers and huge paragraphs are less engaging than animations or live-action ads and commercials.
As more entrepreneurs start their own B2B or B2C businesses, competition is fierce and video is the most optimal way to engage with new clients across all your inbound funnel. And this is not something new, during the 2020 pandemic 80% of marketers start using video into non-paid advertising to drive more traffic to their websites, and, above all, to attract and convert leads.
83% of video marketers allege that this type of content has wonderful results and in this time you are going to learn the full guide to start using it in your marketing strategy.
So, let's go right into the ultimate guide for B2B video marketing!
Why should B2B businesses use Video Marketing?
Well, in a few words…Because it is easier to consume!
But not only this, in fact, people tend to engage more with video content because they don't have to do too much effort to understand it.
Website Wyzowl made a survey to 813 where they asked about their relationship with video content, 93% of marketers that use Video marketing say that this is an important part of their marketing strategy. This is understandable because in a "swipe up" society, it is easier to stand out by showing with image and sound than with a wordy paragraph.
People live at a speed of 100 miles per hour, and the only way to make them stop is by showing something that impress them or by giving a quick solution to their problems.
But let's find out what other information we have about video marketing. In an article from TestimonialHero we find that:
87% of Linkedin video marketers say it is an effective channel
72% of consumers prefer video content over text
88% of video marketers notice a positive return on investment from their video content
The most common videos according to Wyzlow are:
Explainer videos 73%
Social media videos 67%
Presentation Videos 51%
Sales videos 41%
Video ads 41%
But video content doesn't stay in making your brand noticeable, the common outcome of this is that it will help your brand to generate leads and drive more conversions.
Benefits of B2B video marketing 
Improves your Search Ranking
Before explaining it further, we are going to let images say more than words…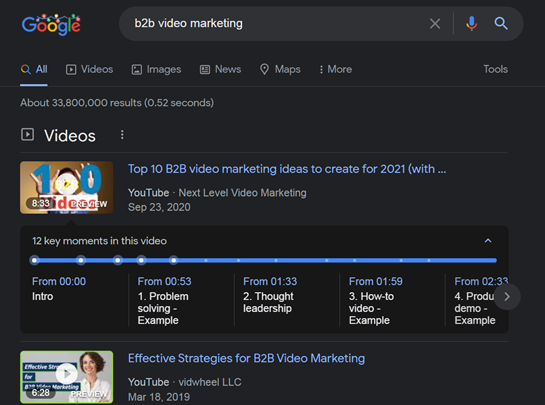 So what do we see in the first position? That's right, videos!
So, if you aren't doing videos for your brand chances are that you are missing an easy way to be on the top of every search query.
Nevertheless, don't forget to use your best SEO strategies whenever you upload a video.
Increases your lead generation
In the last survey from Animoto, we see that 93% of businesses had landed a new customer because of social media videos. Adding to this benefit, users tend to spend more time on your websites if they are watching a video.
It seems clear that if you have quality content on your web page customers will spend more time engaged in your site which then translates to an increase in your customer's list.
Another way to increase leads is by offering valuable video content for your customers, for example, a webinar to learn about your niche that requires visitors to sign up.
At the end of your videos add a CTA that redirects your potential customers to extra content like trials, booking or demonstrations, just show a little taste of what your company offers.
Influence buying decisions
In the article "Video Marketing: The future of content Marketing" Forbes says that 90% of customers think that video product helps them make their buying decisions, while 64% of consumers say that watching a video on Facebook has influenced their purchase decision, according to Animoto.
Adding to the benefits, Hubspot says that 94% of marketers say that video marketing helps consumers for a better understanding of their products.
It performs well in all devices
One of the biggest trends driving the digital marketing world is responsive design, and in the case of video, this type of content can work well for both desktop and mobile devices. This characteristic make video a user friendly and consumer focused type of content.
It can help you go viral
Going hand to hand with mobile devices, it is estimated that 92% of users that consume mobile videos share them with other people through WhatsApp or  other social media platforms. This is beneficial for your brand because it is higher than the share rate of other types of content out there.
Simply measured studied that video is shared 1,200% more than both links and text combined. Also 60% of consumers will engage more with a video than a text post according to Diode Digital. As you see, video is the preffered type of media for consumers out there.
Boost click through rate for Emails
When you put "Video" on your emailsubject line you can expect youropen rates to go up by 19%, click through rates by 65%, and reduce your unsubscribers by 65%, all this according to Syndacast.
Adding video to your emails is a powerful tool since it can help you to boost your click rates up to 300%, according to MarTech Advisor.
How to create a B2B video marketing strategy 
Define your goals
To reach your goal, first, you want to describe what are you targeting for. Its easy, we cant start our travel without a well defined destination, so first you have to decide what you want to achieve with your video marketing strategy?
Among the most common B2B goals we have:
Brand awareness
Thought leadership
Customer engagement
 Brand loyalty
Traffic
Lead generation
Lead conversion and upsell
 Removing roadblocks
 Customer education
 Talent recruitment
It is important to make your specific, measurable, achievable, relevant and time-based, creating a "SMART" goal. This is crucial because brands tend to focus on secondary goals like getting likes, share and views which are more means to your goals than the ultimate price.
Once you define it all, it is easier to create a step-to-step task list where you can define how much money you have to spend on each one.
Build your sales funnel
Talking about the step to step, it is time to map it out.
If you want your team to take the challenge with you they have to know what the next step is for your strategy.
So first, evaluate: Do you have awareness, consideration, decision and retention phases defined? Do you have content that is working for your lead generations?
If that is the case, great! You are one step closer to your goal!
If you notice that an specific content is more popular, try to reinforce it by adding a video that could make it convert better.
Then, it is time to map out where your competition is so you can find out what are they doing and how you could make it better, or, even more important, what they are NOT doing and how you could surpass then in this way.
Study every aspect of their marketing, from what they say? how do they say it? and how you could say it better? Study what type of video content they use, graphics, music, ideas and then make your own strategy by getting the best of them. As Pablo Picasso said…
The biggest artist is the one who steals…
Establish your budget
No matter if you have tons or money or you are low on costs, in some occasions the idea is not to spend it all but to spend it on what you really need. In Hollywood there are plenty of big box movies that haven't seen any return on investment, like Transformers: The last Knight, while indie and low budget movies like Joker that made three times the money it costs.
The idea is to create a clear and engaging idea to connect with your audience, and believe or not, sometimes you don't need an Steven Spielberg budget to do something right. Nevertheless, if money is something you dispose of, spend it wisely and in good quality audiovisual professionals.
Now, by this time there are a bunch of things you have to have to clear like your target audience, sales funnel and knowing your competitors by heart. Now take your entire budget and align it with all the goals you want to achieve.
Here are some tips:
Reinforce what is working well. If you have a landing page that has a lot of traffic, but not too many conversions, is a good idea to add video there.
Spend your money on top-of-funnel videos and less on the bottom funnel ones.
Work in your efficiencies. The main idea is to produce awareness and consideration phase assets at the same time, in this way your videos can be shown in various parts of the customer journey to feel cohesive and work together to convert, instead of looking like an incomplete puzzle.
Decide where to publish your video
The platform you choose depends on how you currently reach your target audience and the goal of your video.
If you've produced only one or two types of B2B video, it's probably better to start with a single channel and build from there.
A brand video is ideal – both for your website homepage and to raise brand awareness on your Facebook page.
Place your case study video on a page dedicated to your customers or use it as trust-building content on LinkedIn.
One of the most video content platforms is YouTube, and there is no doubt of it since it is second largest search engine after Google. In fact, 90% of people say that they discover new brands while surfing on this social media platform and almost 62,9% of businesses post videos in it, more information in Single Grain.
Create your video
Creating a video is not just grabbing a camera and say the words on the script, no, its a whole process.
First, you have to create the concept of your video, what is the main idea? What you want to transmit with it? What feelings you want to evoce in your audience?
The next step is to create your script and put all your ideas into paper. Once everything is written it gest clearer to see how are you going to tell your business story.
Remember that the audience values quality, so get in touch with professionals that know how to handle lights, camera and sound. In this part comes to play your budget, if you have too many resources chances are that you will find the best equipment for your video, but, in case you don't have it all, there is always low budget techniques that will make your video look pretty professional.
Video production companies are your best allies in this type of productions try to find some that is a good fit for your creative vision.
Decide where to publish your video
The channel you are going to choose depends mainly on where your target audience is. Usually the most common platforms for b2b companies are Linkedin and Facebook and the best type of videos for it are brand and case study videos.
Promote your video
Cool! Now all your users can see your video, but you should know that your work is not finished yet, since now comes the most important part to keep them active and that is engagement and interactions. On platforms such as YouTube or any social media platform, sharing impressions with our audience are the first steps to build a good relationship with them, and it is that today if your company does not respond to them you will see yourself as a rude company or that treats its consumers badly.
That is why it is good that you take a look at all your comments, likes and opinions of your audience to continue growing.
Track the success of your video
Now that some time has passed, it is time to evaluate how effective your audiovisual productions have been, quantify how much you have received in return and if people are interacting with what you have done. Once you do, remember: reproduce and redo what has already worked for you, with a touch of originality so as not to bore them.
7 Most Effective B2B Video Content videos
Explainer Videos
This type of video is a short piece used for marketing purposes, it delivers lots of information about your company, product, or service in a fun and easy way.
You can either choose a live-action video – this means with real humans acting or explaining – or an animated one, which tends to take more time but are super popular and effective.
What you want to do with this type of videos is to give a brief and entertaining explanation about your services which introduce new leads into your brand.
Product Videos
With this type of marketing video, the main idea is to show your product's benefits and specs.
Good product videos focus on how these can improve your customer's life and how it will make everything easier if they buy it, more like an infomercial.
In another aspect, with this video, you have the opportunity to show how your products work in real life. If you are launching a new product or service, this is your go-to option.
Commercials
Commercials were the first type of advertising we used to watch on the TVs and radios. And although digital is now the mainstream channel, commercials are still there, everytime you try to watch a video on YouTube first you see an ad and then you can watch your video.
These videos arent longer than 30 seconds and should follow the AIDA model, which stand for Attention, Interest, Desire and Action. At the end of this video, you should focus on your call to action and define what you want your clients to do, whether it is visiting your website or call your phone number for more information.
Company Culture Videos
Selling products and services is not the only thing that draws the attention of your customers, the values and strengths of your company is also something that exalts it and makes it attractive to your customers. That is why a cultural company video is a perfect tool to demonstrate the excellent team you have.
These videos are about praising your team by telling what makes them work so hard, why they work on what they work for and what inspires them to give 100% of their effort for each project.
Customer Testimonial Videos
Reviews matter, that's why customer testimonial videos are an excellent idea to give your services good publicity. The idea is to interview a client about their experience with your services and how they have helped them in their daily life, so when new prospects see their reaction they will choose you over the competition since they already have a good reference about your company.
When companies promote their products as the eighth wonder of the world, customers tend to see it as the typical advertisement, since there is no company that is going to say that their products are mediocre or of average quality, and that it would be a better idea to buy from the competition. The best way to connect a consumer is with the opinion of another who is already pleased with it, because on this occasion if it is a person outside the company who is giving testimony of the quality of your services.
Educational/How-to Videos
The "how-to videos" are presentations used in an educational way to teach your clients how to use your product or how to develop a discipline within your niche. That is, this goes from "how to install Windows" to "how to pick an Amazon store agency?".
The idea is to do a step-by-step of the entire process so that your own clients can learn more about your niche, this gives you authority on the subject and returns you a reference to look for when they have doubts about a topic. Indirectly, this generates greater confidence in your company which makes it the first purchase option, because not only do you know enough about your niche, you also offer the products and services indicated for this.
That's a wrap!
That's a wrap is a phrase used at the end of every Hollywood production, just when the last shot is done, the cameraman or director will yell at the top of his lungs "That's a wrap!" and the team will go out to celebrate a new project.
After this guide, we hope you have enough information to start your shots and take advantage of the full range of content that video productions offer you! Our users want us to make life easier for them, and if you can explain all your marketing through educational and entertaining videos, you will get all their valuable attention for your brand.
Visual content is the biggest current trend since it is more entertaining and practical to consume. 
If you want to stand out from the competition, always remember to create your own visual identity and add that x factor that your brand has to convey everything you want to your audience, of course, if you are looking to highlight and have the best digital marketing agency contact us at CodeDesign and let's take your brand to the next level.
About the author:
We are Codedesign – a multi cultural, technology, award-winning digital marketing agency. We can be define as a result-led, innovative digital marketing agency specializing in Digital Marketing, Ecommerce, Online Sales, Amazon Sales with a team of experts in Search Engine Optimization (SEO), Pay Per Click Strategy and Campaigns, Social Media, Content Marketing, Data Analytics, Ecommerce development, Software development, CRM integrations.