Have you ever seen this type of square?
QR Codes are a standard mobile marketing tool that businesses and marketers used today, but why did they become popular?
According to Scanova Blog, the main reason is that global smartphone penetration has grown significantly in the late years and went from 59.01% in 2017 to 78.05% in 2020. Access to high-speed internet also augmented from 48.8% in 2014 to 62.5% in 2022, and mobile device ownership grew by 92.1%.
A report from 2018 to 2020 on QR Code usage from Blue Bite shows us that:
Interactions with each code raised by 98%

There is a 94% surge in their interactions

 QR Code Reach grew by 96%
With all this valuable data, you may be wondering how you can use these codes for your digital campaign, and we'll give you all the answers. But first, we must clarify…
What is a QR Code, and how does it work?
A QR Code – abbreviation for Quick Response code – is a scannable barcode that stores data.
Depending on their design and functionality, these codes fall into two categories:
Static QR code: These cannot modify the data they store; any mistake you could make would require creating a new one. Regardless of this, its benefit is that it doesn't expire, so you have it forever once you finish it. They are an excellent option for storing confidential info like passwords, access codes, or IDs.

Dynamic QR code: They allow you to change the information every time you want because the data isn't integrated into the code. Instead, this type will enable you to direct customers to a specific URL. Usually, restaurants tend to use dynamic codes to display their menus. But maybe, its top benefit is that it allows you to gather scanning metrics like the location, time, and device customers used to scam. 
Similar to barcodes, QR Codes store information of interest in the form of boxes and points. Once scanned with your smartphone, they show you information of interest. The latest system updates like IoS or Android allow users to scan with their cameras. However, if yours can't do it, try any of these apps:
A quick story on QR Codes and why they are so popular in 2022?
Back in the '90s, working with barcodes used to be a laborious task as machines could only read 20 numbers at a time, and to convey what was inside the boxes, workers had to scan too many. It wasn't until Masahiro Hara, a Japanese engineer working with barcode reading machines, that he decided to solve this problem by creating a two-dimensional box that could hold more information. Interestingly, its first use was to provide cars with a tracking system.
So, when did we get to use them in marketing?
Well, the Quick Response codes weren't relevant until the arrival of smartphones; however, in early 2011, most users had to download applications to be able to scan them, so their moment to shine had not yet come. In 2017 Apple included the scanning function within its camera, and although marketers acted quickly to respond to this new modality, the flame went out again.
So how did they become relevant? Well, everything has to do with the arrival of COVID-19.
When contact between people was forbidden, QR codes offered many businesses an effective way to communicate touchless. Food sectors and even the hotel industry implemented these codes to show all their options to users, and even today, this modality prevails.
In pandemic times, QR codes increased from 9 million in 2018 to 11 million by 2020, according to information from Statista.
In the same way, as the industries above, marketers saw a golden opportunity with these codes since they are a communication channel that allows us to manage both online and offline.
Today many companies are still using QR Codes, and Millenials have adopted it as an excellent choice for consumption.
We will mention here some of the best uses for these codes within digital marketing!
Best uses of QR Codes in Digital marketing
Redirect customers to your landing page or Social media pages
It's valuable for an excellent start to the customer journey if you can shorten the process to access your landing page.
With the help of a QR code, new users will be able to access with a single scam, which is excellent for a fast consuming society like ours. Ensure that your URL code is unique and matches it to measure it correctly.
And in case you want them to go to your social media pages, these codes can help you too. So, if any customer loves your product, you can use a Facebook QR code on its packaging for them to follow your brand and never miss an update.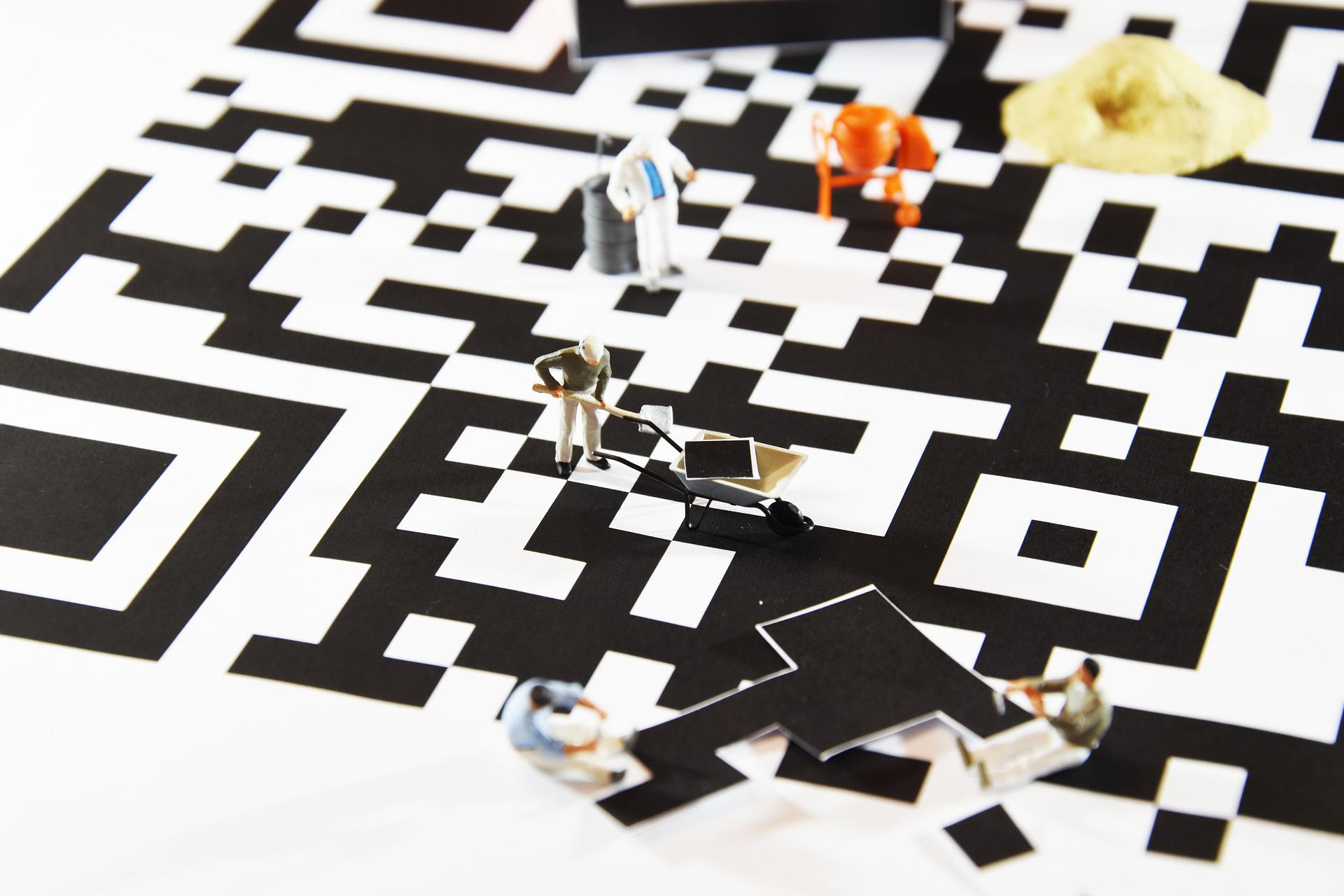 Source: Pixabay.
Use Qr Codes for generating leads.
If your email marketing strategies haven't worked so well within your website, using a QR code to create a list is an excellent option.
Sometimes customers can be unsure about subscribing to your newsletter or email list. It would be best to offer a particular "reward" that makes users want to scan, a slight discount, a freestyle guide, or a free trial to convince them finally. With an attractive call to action like "Scan and win a free trial," it will be perfect to increase your number of leads!
Drive customers to your business location
If you want to drive more traffic to your business – literally – an excellent idea is to offer a scannable map within your website. Don't let them think about things too much or waste time guessing where your location is. When scanned, add a QR Code that leads directly to the GPS location through Google Maps.
Get users to download your app.
With QR codes, your brand can install its app on your audience's smartphones even faster and easier than through the App Store. In their time, platforms like Instagram or games like Angry birds applied these strategies to increase their subscribers. When you have an app for your business, you receive countless opportunities to grow because you can evaluate consumers' patterns to offer them personalized products.
Include QR Codes on Billboards or banners
A Beaconstact article informs us that 71% of users find a digital billboard more attractive than an ad. The results will benefit us if we put this together with a QR code that encourages them to call the business or visit our location.
However, we must point out that these QR codes can be even more successful on an outdoor billboards. Even though almost everything is digital today, street ads affect any audience.
An excellent example of this was X Collective's campaign with SQKII in Singapore, where the brand was hosting an SG$100,000 treasure hunt. The campaign encouraged consumers to get the clues by scanning the QR codes left on billboards around the city to get the location of the money, and this was done through the X Collective app. According to Jeslyn Tan, senior general manager of media and digital business of the company:
"Complementing their out-of-home advertising buy with our app allows them to engage the everyday Singaporean through online-offline integration and positions XCO to be at the forefront of delivering campaigns with maximum impact."
If you want information and want to learn  about this, read "Digital Space in Singapore: Everything you need to know in 2022."
Add them to your products to educate about your business.
Including codes in your products can help you expand the product experience and even educate your customers more about your brand.
For example: suppose you sell technological products; instead of just offering a manual with too many words, you can submit a video in code that takes your buyers to a product page where they'll find all the instructions.
These QR codes can help cross-sell by recommending additional products to the ones they already have, maximizing their product experience. If they bought an HDTV, offer a deal on home theater sound with a code and keep them tied to your brand experience.
Use QR code coupons in your E-commerce.
The use of QR codes has become quite popular within e-commerce platforms. Among its most common services are to show more detailed information about your products, but there are more ingenious ways to use them.
Frequent customers have earned a special place within our businesses, and rewarding them for their loyalty is an excellent strategy for continuing to prefer us over the competition. This way, you can offer them discount coupons or any special offer for any new product you want to promote, and they will be grateful for it.
Augmented Reality
Augmented reality is the possibility of combining the real world with the digital one in the form of videos, images, and even games. With the announcements of what the Metaverse will be and further advances, it is good to start updating ourselves within these developments.
For good luck, QR Codes can help us to access this reality more quickly; in fact, many companies already use them to their advantage.
According to Scanova Blog, the Augmented Reality market will approximately be worth USD 75 billion by 2023. The Snap Consumer AR Global Report 2021 reports that by 2025, 75% of the global population will be frequent users of AR. The same report informs customer conversion rates are augmented by 94% thanks to this immersive technology.
So, thanks to its technology and capabilities of running these programs more effectively, QR Codes will increase their use in the future.
Now that we discussed its best uses let's watch some of the best campaigns using QR Codes.
Best QR Code marketing campaigns
Amazon Go 
Can you imagine going to the market and doing your groceries without the need to wait in long lines? You walk in, grab what you want, and go!
No, this isn't stealing. It is one of the most efficient ways to go to a supermarket. Thanks to the technology of the Qr Code, Jeff Bezos's company has managed to use these to give a smooth experience. Once you pick up all your food, the application will examine the items you choose, and when you leave the store, it will pay instantly from your associated card. Take a look at this wonder!
Burger King VMA Whooper
In times of COVID, pop culture had to reinvent itself to stay relevant, and Burger King, along with rapper Lil Yachty managed to do it most authentically.
Due to biosecurity measures, the MTV VMAs (Video Music Awards) had to be held without an audience. However, Burger King offered an unforgettable campaign to keep viewers updated. Through small advertising spots, QR Codes of the brand would appear, and if you managed to scan them at the time, you had a chance to win a Whooper with free delivery or a giveaway with tickets for the 2021 VMAs.
Let's take a look at this campaign!
Shanghai's Drone Show for the anniversary of the game "Princess Connect! Re: Dive"
This is perhaps the most impressive campaign of all, and it's not so much about the amount of revenue it achieved but about the feat they did!
On the anniversary of "Princess Connect! Re: Dive", a mobile game, the Bilibili company used 1,500 drones to show a futuristic and surreal show. The drones began to form images of the characters, but the most impressive came at the end. At one point, the 1,500 drones started a giant QR Code that could be scanned, and once done, viewers would go to the page to download the game.
A whole new level of marketing!
Final Thoughts
Comfort and speed are factors that all users seek, and with the help of QR Codes, you will be able to have these two in a simple way and without the need to spend so much money.
QR Codes are becoming more popular worldwide, so you should not be left behind in this trend, and you should start applying them to your business. If you need advice from experts in digital marketing, contact us at Codedesign, and let's renew your entire strategy to increase your sales and take your brand to a new level.
See you in the following article!
About the author:
We are trusted with growing the online presence of companies on a local, national and international scale. We work very closely with our clients' team to understand how best to meet their needs, utilizing the diverse talent within our team to create highly innovative marketing campaigns. We're here to help you take your brand into international markets. We build bridges across language, cultural, and technical barriers so you can excel in the online global marketplace.